The Ink&I Story
Ink&I is a cleverly curated collection of designs, created in the heart of Cheshire, England by a team of daringly talented illustrators, artists and graphic designers.
Our luxury wallpapers, soft furnishings, home accessories, furniture and limited-edition prints will add a fabulous drama to your interior that simply cannot be found anywhere else.
We use the very best materials that have been hand-picked because we love them and we manufacture in the UK, keeping our hyper critical eye on every item that leaves us for you.
We offer a personalisation and bespoke service so if there is something you have seen that you love but that you want to tweak, well then call us for a chat, we would love to hear what you want to do.
The people behind the story
Lyndsey Markland-Clay – Owner & Creative Director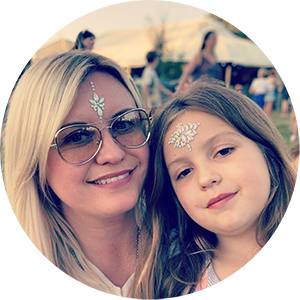 For as long as I can remember I have been a maker, an inquisitive sort with a love of well-made, beautiful things.
I was the girl waiting for my mum to finish the fairy bottle to be ready for the latest craft on Blue Peter making dens across streams with my dad and so many summers spent with my Grandad Jack, a talented artist, in his shed, learning how to make and make good and out of all of this grew a passion to create.
For the last fifteen years I've been running a company that creates art & interior décor for the hospitality industry, I've loved it and we've worked on some incredible projects but I've always had this idea, burning away, that I wanted to create an online space that I could fill with our own wonderful designs that the public could buy, so here we are…
At the heart of Ink&I is that it is a family run business, John and I have been married for ten years, we have two amazing children who can often be found doodling away in the office after school and if you call and hear a loud woof then that's the customer service team also known as Blue & Poppy.
John Clay – Owner & Head of Design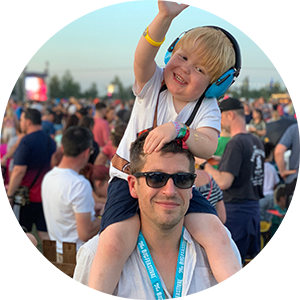 I would class myself as a compulsive doodler, where other kids were busy burying themselves in the sand on holiday I would go off and paint landscapes for fun. I see the world in graphic terms, noticing thing others don't and I can be a bit of a nerd when it comes to the technicals of design software. I was designing logos and brochures in my spare time after a product design degree in London when I met Lyndsey. It's been a wild ride, designing art for hotels, cruise ships and entertainment venues around the world for the last ten years and my team and I are ready to bring that flair to the products we make for you.
Ink&I will always be true to these two things
We are not about the mass produced, every design has been hand drawn over an incredible number of hours by our own team.
We will always strive to put our customers at the heart of everything we do.
Thank you for choosing us, there are so many places you can spend your money, we are honoured you're here with us.
Trade
The owners of Ink&I have fifteen years' experience working in design for the hospitality sector so if you would like to use our products in a commercial setting please contact us to discuss your requirements. All of our products can be manufactured to commercial standards and regulation.
hello@ink&I.co.uk
Delivery & Shipping Information
Our standard shipping is to the UK but we will ship all of our products worldwide.
Please contact us on hello@ink&I.co.uk for any international delivery queries. Please note that your country may be subject to import charges and taxes which are not included in our prices.
Our products are handmade to order, please allow between 3-10 days for UK deliveries for our products. We have all had those last minute desperately needed purchases so please contact us if you need something 'yesterday' we will always endeavour to help where we can.
Bespoke designs and orders will take longer, please refer to our bespoke service page for details on how this process works.
Returns
Faulty or Damaged Items
We do our very best to make sure our products arrive with you in perfect condition but if you have received a faulty or damaged item contact us within 5 days of delivery to discuss a replacement or refund.
We will need you to email us on help@ink&i.co.uk with photographs of the damage or fault and your order number. The damaged or faulty items will need to be returned using our returns label included in your package, once these have been received, we will refund using your original payment method.
Cancellations & Change of mind returns
If you wish to cancel your order you can do this up to the point that goods have been dispatched with no costs incurred, please email help@ink&i.co.uk with your order number. Once goods have left us you will need to follow the returns process enclosed with your delivery, you can return any item except bespoke designs or products within 14 days of purchase.
All returns should be sent back in the original packaging, please take photographs of your returns before you post them and please use an insured service to the value of the goods to return them to us, if the goods are damaged in transit on their way back to you, we won't be able to accept and refund them. All change of mind return's must be returned to us at your own cost.
Refunds
Once the goods have been returned to us and checked we will refund the cost of goods minus the original postal cost (unless there is proof the goods were damaged in transit). We will always refund the money to your original purchase method. The money will be back in your account within 7 days from the notification that the goods have been received back to us.
Bespoke
Any bespoke or personalised products are non-refundable, in the incredibly rare instance that items are faulty or damaged in transit we will always replace them at no extra charge.